Spaceships (Gray, 1961) House (Gray, 1959)

Photos: Stuart Johnstone
As a child I designed and built spaceships. Having discovered that my eyesight was too bad to become an astronaut, I decided to become an architect - mainly because I was fascinated by Lego, and spacestations could be easily changed into semi-detached houses! However, I went to a very academic girls' grammar school where architecture was not considered a suitable job for a lady. The art room also was reserved only for those with limited grey matter and too many free periods. It was unthinkable that anyone deemed vaguely intelligent should waste their time and talent doing art. I persevered though and undeterred I went on to enjoy an incredible university education, as an undergraduate at Reading University, and then as a postgraduate at the Slade School of Fine Art, University College London. I was encouraged to make art and think about it, be creative and analytical, experiment and evaluate, have my opinion and take the criticism of others - to act intuitively and reasonably - to relate the square to the circle. This "reflective practice", as Donald Schön terms it ('The Reflective Practitioner', 1983), celebrates action and reflection in and on action. It has characterised my professional career as an artist, and provides a useful concept in teaching and research.
I see my own work as three dimensional problem solving, my task to find inventive solutions to seemingly impossible visions. In the studio ideas are realised through experimentation and manipulation of materials, through form in space.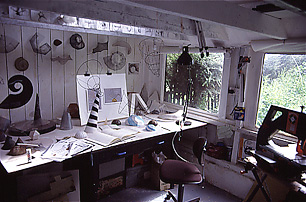 Artist's Workshop Photo: Carole Gray (unless otherwise stated all photographs are copyright of the artist)

I feel a strong connection to the spirit of the Russian Constructivists ('The Russian Experiment in Art: 1863-1922', Camilla Gray, 1986) working in the early part of this century, and admire their vision, invention and response to the technology of their times.They were completely aware of concurrent developments in relativity theory and new ideas about space and time. They explored the difficult boundaries between science and art.